It used to be, for most part the phrase "Yummy Salad" was an oxymoron. I thought salad was boring and the opposite of yummy. Now I love it! Now that I'm not eating everything and anything in huge portions and at any time, I really enjoy a nice big salad.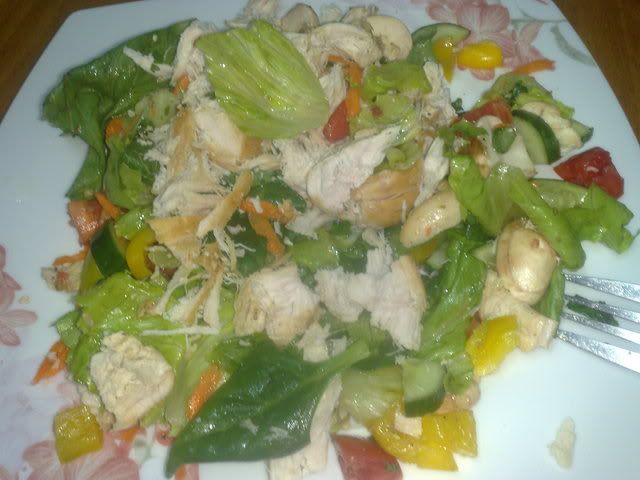 Here this was my yummy salad. It includes:
Iceberg lettuce
Spinach
Mushrooms
Yellow peppers
Tomatoes
Cucumbers
Shredded carrots
Grilled chicken breast
Dressing:
1 Tbsp Olive Oil
Juice of one lemon
Salt
Pepper
Chopped fresh cilantro
Chopped fresh basil
If I was to add anything, maybe a little bit of shredded cheese. This is now one of my favorite things to eat. I had it for lunch with my cool friend Jujey yesterday and then later made this delicious
Tomato Basil Soup.
Some of my other favorite things to eat are:
Low fat yogurt with musli and honey
Sliced granny smith apples with a slice of cheddar or a Tbsp of peanut butter
Roasted cauliflower with garlic and parmesan
Anyone have a low fat/calorie meal or snack to share?