TP or not TP...That is the Question.
I was reading a post on
Sabrina's Slice of Lemon
about toilet paper, over vs under. (It should be over by the way) I started to think about how most homes I go to here, don't have toilet paper. It's sold in supermarkets. Most public bathrooms in restaurant chains and Malls do but not in people's homes.
All toilets here have a built in bidet type deal called a shatafa, or the hose spray beside the toilet. It's far superior that a watering can or water bottle. This is what people in the Middle East use to wash. I'm sure there are lots of people who do used toilet paper but most use just this. See pics below, for those of you who've never seen it.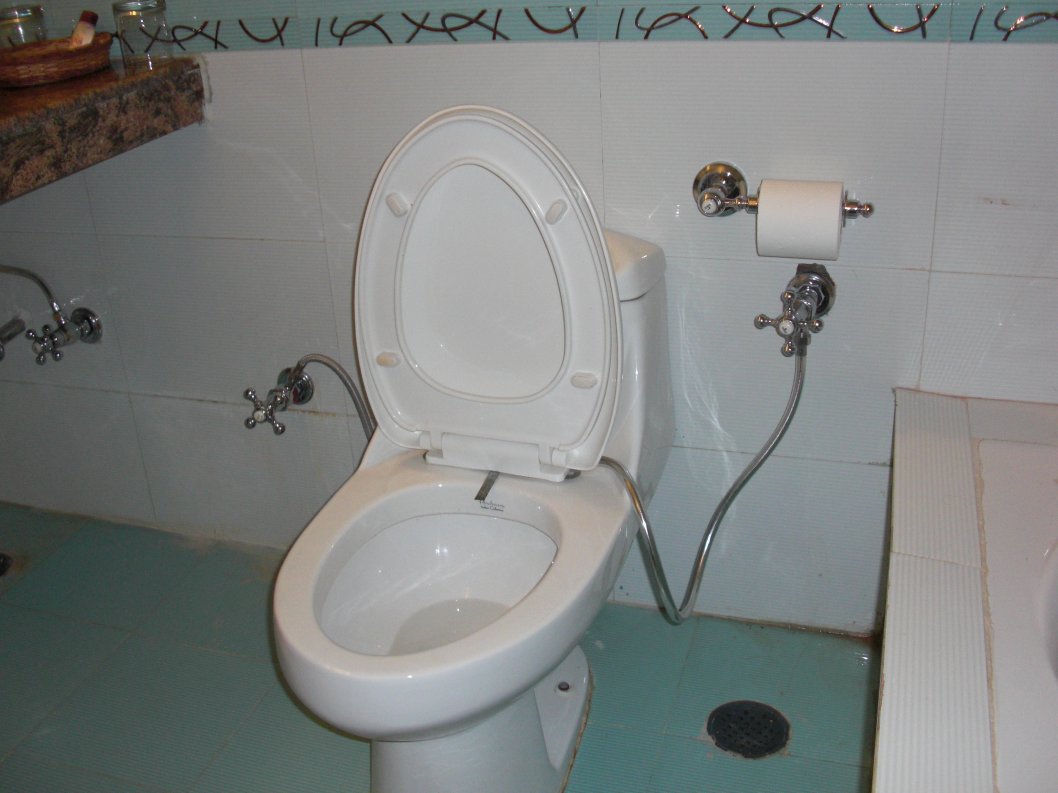 Hey look they have TP in both pics! I suspect that this is because these photos were taken by expats living or staying abroad. Most Arabs don't photograph toilets.
I'm not judging at all here, but what I don't get is, how do I put this gently? I mean, there are times when I think water alone isn't enough to do the job. Unless it was like high pressure car wash sprayer. Even if it is enough. You just air dry? Or don't dry? Doesn't that make for some...wetness? Help me out here people. How does that work? Can't that lead to infections or something?
The combination of water and toilet paper is best but I don't get how people use water alone.
Another thing is squatting toilets. On our
trip around Egypt
, there were some places where these were the only toilets available, so we had to use them. It was weird and worrysome but we got through it. I understand that the squatting position is best, but it could be messy if you're not dressed right or know exactly how to sit/squat. I'll take a commode over this any day of the week, but hey, that's just me.
Picture this but grosser.
Lastly, what is up with swampy bathrooms in the Mid East? Yes, we make wadu/ablution but the bathroom mirror doesn't need wadu, and neither does the floor. Most places here also don't have tubs. It's stand up showers with or without a curtain and with or without an actual square where you stand. So I guess you can see how the whole room can get wet. That's why you always need flip flops.
The good part is cleaning is easier. You just wash everything down and squeegee it towards the handy drain in the floor. I always thought those bath mat/rugs and toilet set covers were gross anyway so there's a lot to be said for water park bathrooms.
What's your take? Is toilet paper your friend? Ever squatted over a hole in the ground? Wet n' Wild bathrooms, yay or nay?