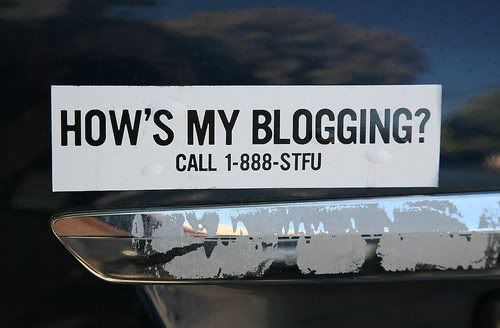 These are just few things that annoy me, and a lot of bloggers, I'm sure. I think some might not know that it's obnoxious or not realize they do it. This is just my opinion, of course everyone is free to do as they please. Let me bitch a little bit about this:
Word varification, It sucks. Most blogs don't need it. You are probably not getting super spammed to the point where you need a captcha. Some bloggers don't realize they even have it on because when they comment on their own blog, they don't have to write the stupid jumble of letters. Disable it, please.
Reply to your comments. It sucks when people don't reply to comments. I don't think each and every comment requires an individual reply, but if someone asks a question or something, you should follow up, it's rude not to. It defeats the purpose if you don't interact after the initial post, man.
Paragraphs are your friend. I can't stand when people write a looong post all in one big paragraph. It hurts my eyes. Break it up.

Spell check is your

best

friend. We can't all spell everything right all the time. That's why there is spell check. It's a great thing. Use it. You look stupid when you write that you're

definately pregnate

. It's just careless.
A million widgets and images make your page slow loading and will probably make people not visit.
Don't get mad if someone doesn't do your tag. I like them and usually do them but not everyone wants to nor has to. Same with Awards.
Ads all over the blog and pop ups suck.
We went to school to learn about Grammar right? Nothing wrong with using these skills on a regular basis now that you're in the real world and I don't care that you're not being graded on it. It's dumb and only takes a few minutes to correct.
Posting urls without making them clickable. People are way less likely to visit the link you've provided when you haven't made it clickable. It's easy, just hightlight the text and click on the globe/link icon in your blog post editor. Oh yea, and make sure the link works.
Auto Play Music. Yea I know you're super cool and have amazing taste in music but just keep that to yourself cause it's scared the crap out of me on many occasions that I didn't realize I had the speakers up.
I know I'm not alone on most of these. What annoys you about some blogs?