Vintage advertisements are funny. And Sad. These are all real.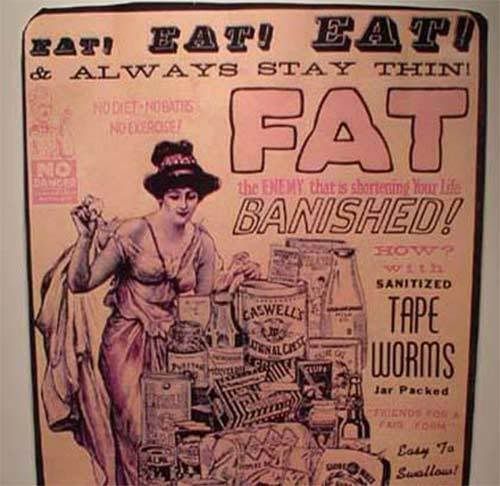 Above, lose weight by swallowing tape worms! Yes tape worms are your "friends for a fair form"! What people will do.
Oh yes, a "joking" ad about spousal abuse is just fine and dandy in the 50's.
The Lysol one, you have
got
to click to enlarge. A real gem. They had women believing they had to douche with LYSOL as not to offend they're husbands!? and to stay #@&*ing desirable.
Also, if your wife has morning sickness, give her some Mornidine®. Yes, because who cares if she's carrying your child, suffering from pregnancy side effects, and is feeling like she could puke at the sight of food. She should get off her ass and fry you some eggs!
Now while these vintage ads are pretty funny, don't think,
hey we've come a long way, chauvinistic ads are a thing of the past
. Far from it. The way women are degraded, stereotyped, and exploited today is just as bad. There are lots of modern ads I could post that are just plain sexist, but I wont because the women are barely dressed and in compromising positions. Some women might think it's empowering to remove their clothes and be nothing but a play thing. It's just demeaning to all of us when a woman is shown in a vulnerable situation, supposedly being provocative, depicted as a toy or eye candy to sell a product.