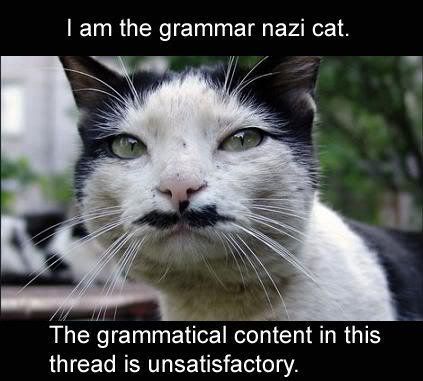 Alright, after a couple of sunshine and rainbows posts, I gotta do this for the ying and the yang of it all. This is a public service announcement. We all make the occasional typos and that's ok, but some things are just common knowledge. I have been called a grammar nazi (as well as a volume nazi but that's another story), but I have no patience for stupidity.
Adults should know the difference between THERE, THEIR, and THEY'RE. People just use them interchangeably. I once IMed with a girl who kept writing ARE instead of OUR. It drove me mad. "They came over ARE house and blah blah blah ARE kids" YIKES! I kept finding ways to use OUR in a sentence to get her to figure it out but it was pointless. People like to use the fact that they're on the internet as an excuse. Like this isn't real life? It indicates you're ignorant when you write "OF COARSE"! One of the most irk worthy mispelled words is pregnate. It's pregnant! It also makes you look like a damn fool WhEn U tYp LyKe DiS. DaT aIn't rIgHt. You sound like a
LOL Cat
and it's moronic. Quit it. I also hate gratuitous use of "quotations". Everything reads "Sarcastic". I am talking about native speakers here, just to be clear. Do you have any spelling/grammar pet peeves?